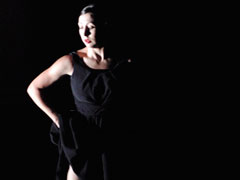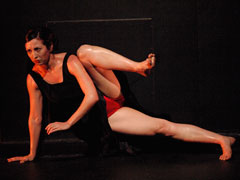 Synopsis
The Sweet Yeti is a small curious woman with frantic feet on an exploration through time and space. She moves ferociously around the perimeter of the space in a ritual dance, marking out her territory.

She sensuously and frantically moves to and from the walls, her feet provide the centre. Decisions made with the feet affect all other decisions both physically and emotionally. She persuades the audience to be concerned for her. She develops this concern through her gaze as she unfolds her body, and at moments there is an expectation that this body will leave the space; falling into the void that the wall represents.

With every step of her small feet, the yeti moves from place to place leaving her residual imprint behind.


Credits
Creator/performer - Lisa O'Neill
Costume – Glen Brown
Lighting Design - Lisa O'Neill
Music - Nirvana, David Motion, Sally Potter, Trent Arkley-Smith, Kerryn Joyce, Teardrop Explodes
Soundtrack re-edited by Guy Webster
Video Documentation – David Granato
Photography – Phil Hargreaves

Performance History
Dance Laboratory, Queensland University Of Technology 2006
Velocity, Creative Industries Precinct, Brisbane 2006
Three Frank Women, Metro Arts, Brisbane 2000
New Moves Festival, Glasgow, Scotland 2000
Queensland Art Gallery 2000
Brisbane City Council Gallery 2000
'There's more than a dash of inspired grotesquerie in Lisa O'Neill's solo but there is also a rare poetic delicacy which emerges as she sheds her layers of red oriental garb. The charismatic O'Neill shades in a host of moods through gesture and gaze - astounding, brilliant, utterly captivating.' The Herald, Scotland 2000
'Lisa O'Neill possesses a curious china doll quality in her Sweet yeti. Deadpan and intense, O'Neill showed a highly individual movement style, arms as silky as her dress, striding into the powerful light beams with a rubbery nonchalance' The Scotsman, Scotland 2000
'She has a searing presence; She is funny, confrontational, and erotic. She left her audience cheering more.' The Observer, London 2000