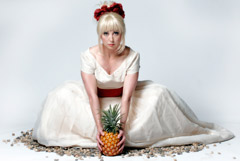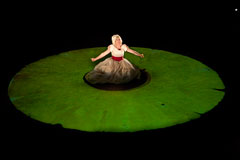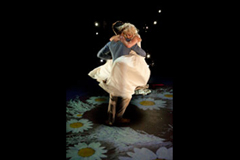 photo
Synopsis
The Pineapple Queen is raw and confronting theatre. A dark fable and a dance macabre.
All she ever wanted was to be crowned the Glasshouse District Pineapple Queen, wear wonderful dresses, watch romantic movies, and catch the eye of a handsome young man. But when her dancing courtship with William Holden intensifies she is forced to confront the reality of her existence.
I've always wanted to be loved in the afternoon and into the night. With white swans gliding on a river and the moon hanging out of the sky, like Audrey Hepburn in 'Funny Face' dancing with Fred Astaire.
Project History
Premiered La Boite Theatre - 2009
Development Stage 1- 2005
Short performances created as part of the Da Da performance series performed at the Brisbane Powerhouse, The Zoo and The Judith Wright Centre of Contemporary Arts.
Playwright/director – Norman Price
Performer – Lisa O'Neil

Development Stage 2- 2006
Two-month residency at Metro Arts concluding with a public showing as part of the Metro Arts Creative Development Festival.
Playwright/director – Norman Price
Performers – Lisa O'Neill and Kieran Law
Supported by Metro Arts
Development Stage 3- 2007
Public showing of full work at Metro Arts.
Playwright/director – Norman Price
Performers – Lisa O'Neill and Michael Coughlan
Dramaturg – Kathryn Kelly
Costume design – Glen Brown
Props – Mark Kingston
Supported by Metro Arts, Playlab and Southbank Institute of Technology.
Funded by Arts Queensland
Creative Personnel
Creators – Lisa O'Neill and Norman Price
Playwright – Norman Price
Director/dramaturg – Ian Lawson
Sound designer – Guy Webster
Lighting designer – David Walters
Video production – Jaxzyn
Costume designer – Glen Brown
Performers – Lisa O'Neill and Michael Coughlan
Photography – Justine Walpole
Presented by La Boite Theatre
Produced by Lisa O'Neill and Southbank Institute of Technology
Supported by MAPS (Managing and Producing Services)
Funded by Southbank Institute of Technology
'Darkly comic, surreal and affecting physical theatre…
stunning'
Australian Stage Online


The intensity and precision of O'Neill's performance
carries the play. O'Neill's highly physical
personification of the Pineapple Queen, and her
relationship with Michael Coughlan as Holden,
translates into striking imagery.'
The Australian

'Make no mistake, this play is more than simple
entertainment, it is performance art. As an audience
member you are required to think, explore possibilities,
draw your own conclusions and experience the madness.'
ABC Brisbane