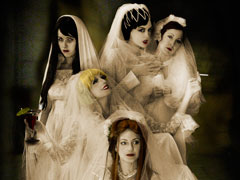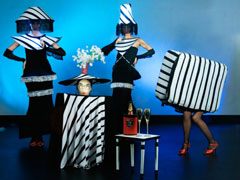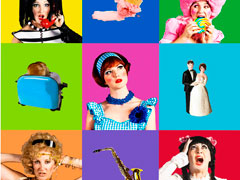 Oozing glamour, parody, schmooze and dysfunction, The Brides of Frank are a dynamic ensemble of artists, dancers and actors who create satirical comedy performances strongly influenced by popular culture, music and personae. Since 2003 these self-proclaimed 'Charlie's Angels of Theatre' have been twisting the familiar into stylised and intense performances that incorporate sophisticated choreography with highly theatrical characterizations. They are absurd and enthralling, shocking and delighting audiences everywhere they go. These girls make the most wicked pop-com cocktails you've ever tasted and once swallowed, nothing is what it seems!
The Brides of Frank specialise in performance and roving character work for festivals, night clubs, film clips, cabaret and special/corporate events. They perform from their wide-ranging repertoire as well as creating tailor-made, site-specific performances for their ever increasing client base locally and nationally.
The Brides of Frank ensemble is made up of five female artists: Caroline Dunphy, Lisa O'Neill, Emma Pursey, Leah Shelton and Neridah Waters.
Together they have trained extensively in the Japanese Suzuki Actor Training Method.They engage the intensity of their training and their strong ensemble-based work ethic to create a high standard of performance. A new aesthetic has been created through the hybridization of their collective experiences as artists, dancers and actors.