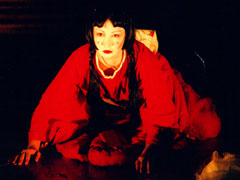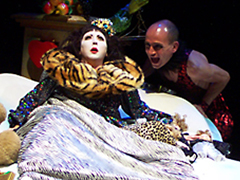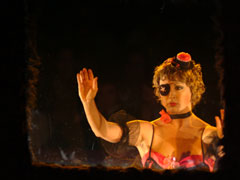 Lisa O'Neill trained, performed and toured as an actor with Brisbane's International Frank Theatre from 1995-2007 under the direction of Jacqui Carroll and John Nobbs. As a company member, Lisa trained extensively in the Suzuki Actor Training Method, a discipline and performance philosophy developed by Japan's foremost theatre director, Tadashi Suzuki. The (SATM) is a vigorous athletic system that emphasizes teamwork allied to powerful voice and body skills.

As a member of Frank Theatre, Lisa performed in the company's productions of Heavy Metal Hamlet, The Tale of Macbeth: Crown of Blood, The Romance of Orpheus, Oedipus Rex, Romeo and Juliet.... a gathering of ghosts, fxpo, Up Jumped The Devil and Midsummer Night's Romeos, Notable lead roles created for Lisa include 'Salome' in Salome, the 'wife' in Rashomon and the 'Doll' in Doll 17, an adaptation of Ray Lawler's 'Summer of the seventeenth doll'.

National and international touring include performances at numerous Australian arts festivals, the (Toga International Arts Festival 1998, Japan), (Tadashi Suzuki's 1999 Theatre Olympics, Japan), (Shizuoka International Arts Festival 2000, Japan), (Theatre European Regions Arts Festival 2003, Czech Republic), (MKFm International Youth Theatre Festival 2003, Croatia) and (The Sabana Foundation Adana Theatre Festival 2004, Turkey).

'Lisa O'Neill is a truly sinister little Salome. She is, indeed, terrifying to look upon, whitened face and evil eyes – and yet rivetingly beautiful. Yet, from within her ruthless arrogance she manages to elicit pity and the last moments of the play, as she finally kisses the lips of the holy man who never saw her face, are heart rending. O'Neill also triumphs at the challenge of Salome's dance. Such a famous, in-demand dance has to be special – and it is – an arresting and memorable movement piece' The Advertiser 1998
'As the morally compromised wife Lisa O'Neill gives a magnificent performance, still as a statue, porcelain-faced and yet simultaneously trembling with rage and passion.' The Australian December 2000
'Lisa O'Neill is an amazing Salome. Scarlet and gold robes, white face like an oriental mask, her harsh, deep voice rips across Wild's exotic imagery as she violently attempts the seduction of the Baptist' Portside 1998