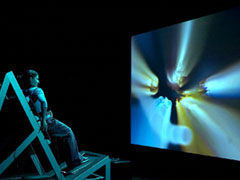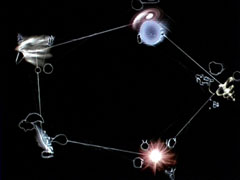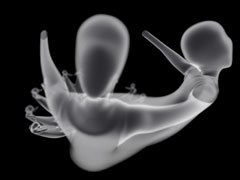 Synopsis
Intimate Transactions is a new type of interactive installation that allows two people located in separate spaces to interact simultaneously using only their bodies.
Each participant uses a physical interface called a 'Bodyshelf'. By gently moving their bodies on this 'smart furniture' they instigate 'Intimate Transactions', which influence an evolving 'world' created from digital imagery, multichannel sound and tactile feedback.
As this highly immersive experience evolves, each participant begins to sense their place in a complex web of relations that connect them, and everything else within the work.

For full details see embodiedmedia's intimate transactions page.



Credits
Keith Armstrong: Artistic Director/New Media Image
Lisa O'Neill: Choreography/Interaction
Guy Webster: Interactive Sound Design and Composition
Zeljko Markov: Bodyshelf Designer
Marcos Caceres: Lead System Designer
Cameron Owen: Lead System Designer
Stuart Lawson: 3D Artist
Steve Curran/Upside Solutions: Bodyshelf Industrial Design
Glen Wetherall: Hacker
Gavin Sade: Audio Interaction
Benedict Foley: Graphic Design
Megan McKenzie: Website
Benn Woods: Max Programming
Dow Airen: Electronics
Pia Ednie-Brown: Haptic Pendant Direction
Inger Mewburn: Haptic Penfdant Co-direction

Curators
Fiona Winning - Performance Space, Sydney,
Prof. Peter Lavery - QUT Precincts, Brisbane,
Vivienne Gaskin - Institute of Contemporary Art, London, England
Nikki Milican - National Review of Live Art, Glasgow
Alessio Cavallaro - Australian Centre for the Moving Image
Katz Kiely - B'Tween Festival of Future Entertainment, Doncaster, England
Vassilis Haralambidis - Biosproject (New Synthesis of Urban Culture), Athens, Greece
Genoveva Rueckert- Ars Electronica 2005 / OK Centre For Contemporary Art, Linz, Austria.
For full credits see website